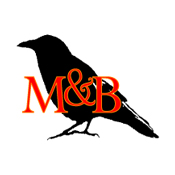 Links
Order by Check



McRoy & Blackburn, Publishers
Books from the north:
well-written fiction by Alaska authors, published by an Alaska press.
We are an Alaska publishing company, headquartered in the historic gold-mining town of Ester, Alaska. Our titles reflect the creativity, enthusiasm, and sheer stubborness of Alaskans and their way of life. Please see "About Us" for further details, contact information, and submittal details.

---
News and Announcements
---
Remember Sarah? She's back in the news, stumping for Trump, and if you're interested in her, you'll love Alaska by Heart!
Like nearly everyone else in the United States, no matter what his or her political inclination, we at McRoy & Blackburn are finding the runup to the national elections to be an unpleasant experience, what with name calling, accusations, and dire predictions clogging the airwaves and the Internet. These are not happy times...but that doesn't mean we can't still have some fun! Enjoy the book that makes politics (and quite a lot else) laugh-out-loud funny: Alaska by Heart, Recipes for Independence by Sarah Pagen. Actually written by Patricia Monaghan, the book is ostensibly the campaign biography of the American Independence Party candidate for president; it's described in detail elsewhere on this site. It's picked up some pretty good reviews, and the reviewers agree that it's an entertaining read. So check it out and escape the horrors of politics as usual!


---
More News and Announcements
---
Our authors keep accomplishing good things, as this note from Ann Chandonnet (The Birthday Party) reminds:

"In December an Alaska fiction-writer friend told me about a book being assembled, What Does it Mean to be White in America: Breaking the White Code of Silence, a Collection of Personal Narratives. I had only 5 days to meet the deadline, and wasn't sure what I should do. But I went ahead and wrote a brief essay, which was immediately accepted. The book is being published by 2Leaf Press, an imprint of the Intercultural Alliance of Artists & Scholars, Inc, in NYC. It will be out this spring. I just signed off my galley proof.





---
***NOTE TO AUTHORS***

Please note: for now, McRoy & Blackburn will be accepting no new manuscripts. The editor in chief has declared the publishing pipeline to be full. Only manuscripts by authors who have existing arrangements with the publisher will be considered.


---
Selected Recent Titles from McRoy & Blackburn
---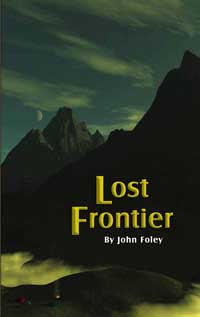 Lost Frontier
By
John Foley
Adult
$16, paper
ISBN 978-0-9820319-6-4
When young Baird thought about the upcoming summer,
he saw a near-perfect season. His dream job, as a guide for climbers on Mt. Rainier, looked like a nearly sure thing. But he didn't get the job, and worse, another guide got his girl. The consolation was a solo trek in the Alaska wilderness. The trip started out well--until he met a gang of juvenile delinquents led by a violent killer. Now all that stands between Baird and certain death are his skills and his wits.
Author John Foley researched
Lost Frontier
at Gates of the Arctic National Park and Preserve, which accounts for the accurate depiction of the arctic wilderness. A former newspaper reporter in Alaska and Chicago, Foley is now a high-school English teacher in Arizona. He has written other short stories and novels, including
Hoops of Steel
, which was named a Book for the Teen Age in 2008.
Foley writes with a flow and clarity that carry the reader along, effortless and entertaining.--Shana Loshbaugh,
Fairbanks Daily News-Miner
What a page turner! As an ex-Outward Bound instructor, I can see that Foley knows his stuff. This tale is as wild as Alaska itself and as exciting as a whitewater trip down the Colorado River.
Lost Frontier
grabs you by the throat on the first page and doesn't let you go.--Bobbie Pylor, author of
A Dog's Way Home
and
The Dogs of Winter
Lost Frontier takes you deep into the adventure of Alaska, a place that can bring out the best--and the worst--in anyone. A great read for kids from 16 to 96.--Mike Doogan, author of
Skeleton Lake, Fashion Means Your Fur Hat is Dead, Our Alaska,
and other Alaska books
Check out award-winning author John A. Foley's web site,
johnfoley.eileenefoley.com
---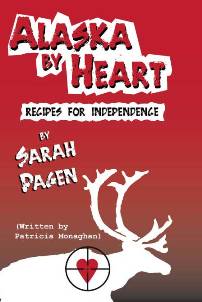 Alaska by Heart: Recipes for Independence
By Sarah Pagan (written by
Patricia Monaghan
)
Adult
$15.95, paper
ISBN 978-0-9820319-5-7
What happens when an Extremeovore cooking show hostess raised on a marijuana farm in Alaska
decides to run for president on the American Independence Party ticket? She writes her campaign biography, sharing her famous recipes for such northern delicacies as Hare on Buns and Moose Haggis and telling her own inspiring life story of independence and God-guided success, from her childhood trapline through her invention of the prizewinning "Tokless Brownies" to her media triumph on her Cooking North TV show. She'll let readers in on the story behind her children's gospel band, the Trapper Family Singers, with their string of hits including "Locked and Loaded for the Lord." Finally she'll explain just how different a Pagen presidency will be from anything ever seen before. Her story is inspiring, thrilling, and more than a little frightening . . .
Overcome by the smog of political babble permeating contemporary culture, Patricia Monaghan, Ph.D., found herself possessed by the amazing Ms. Pagen. Thus we now have the hilarious account, in her own words, of the life to date of one of the most remarkable political figures ever to emerge from the Alaska wilderness. Sarah Pagen is just what America has been waiting for. Maybe. In some circles, anyhow.
And if your funnybone has been blunted by too much politics, you can always enjoy the saga of the suffering editor revealed in the footnotes accompanying the text. Alaska by Heart is a comic romp on several levels, poking wry fun at some recent Alaska history. Just remember: it's not real. Yet.
For more about author Monaghan, please see her web site,
www.patricia-monaghan.com.
For more about Sarah Pagen's candidacy, see
pagenforpresident.wordpress.com
---
More Recent Titles from M & B
---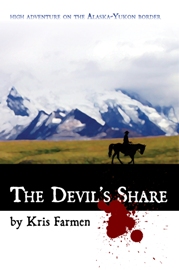 The Devil's Share
By Kris Farmen
High adventure on the Alaska-Yukon border.

Adult
$16.95, paper
ISBN 978-0-9820319-3-3

Can we ever own land--
or does the land instead possess us? That question underpins this elegantly written account of a young man's action-filled year in the Wrangell-St. Elias wilderness, where mountains rise to pierce the sky. There he faces the dangers hidden behind both the smiles of humans and the beauties of the vast country where Canada and Alaska meet.
In the spring of his eighteenth year, Jack enters those mountains to work at a lakeside wilderness lodge near his birthplace--a homestead from which his family had been evicted by federal action when he was a toddler. What starts out as a simple summer job assisting a family friend with his guiding business becomes a complex struggle for survival among the snares set by bears and glaciers, smugglers and park rangers, bitter weather and one beautiful, troubled young woman. Jack's adventure makes for a unique coming of age story; a genuine mountain man cannot fit comfortably in the early years of the twenty-first century, and he becomes truly a man out of time.
Alaska author Farmen, who has lived and worked in the Wrangell-St. Elias National Park, knows both the mountain landscape and the corners of the human heart; here his knowledge fills the pages with gripping prose.
What reviewers have to say about The Devil's Share:
The Devil's Share
...crosses multiple literary genres--it's a Western, with cowboys; it's pulp, with drugs and murder; it's a love story; it's Alaskans, set in the Wrangell--St. Elias wilderness....a quick read, but Farmen (who also writes for this newspaper) crams in the elements of adventure, danger, romanticism and coming of age without the book's feeling cluttered. Jack's initial ideology is regularly challenged and adjusted as the book progresses, and when the book ends, that journey lingers with the reader.
--Brendan Joel Kelley,
The Anchorage Press
---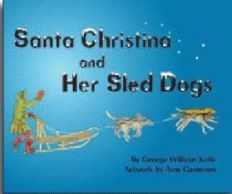 Santa Christina and Her Sled Dogs
By George William Kelly, artwork by Amy Cameron

Children
$14.95, cloth
ISBN 978-0-9820319-4-0


"Santa Christina is the wife of Santa Claus," begins this cheerful tale of some doings at the North Pole, in Alaska and the Arctic, and even in New York City. Everyone knows that Mrs. Claus is a kindly helpmate without whom Christmas just wouldn't be the same, but few knew until now that she is also a splendid athlete, a star at Alaska's official state sport-- dog mushing. How this came about and some of the wonderful things that resulted make up the story in Santa Christina and Her Sled Dogs. Amy Cameron's lively illustrations bring George Kelly's charming story to vibrant life, full of happy dogs, playful reindeer, and enough presents to please girls and boys the world over.

What reviewers have to say about Santa Christina:

"Nice story, great pictures and a fun book to read."

--Lance Mackey, Iditarod and Yukon Quest race champion.

"...a top pick for first and second grade readers."

--The Midwest Book Review


---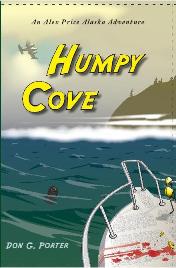 A new Alex Price Alaska adventure!
Humpy Cove
By Don G. Porter

Adult
$14.95, paper
ISBN 978-0-9820319-1-9

"If you fall in,
toss me the lunch before you hit the water." So says Alex Price as the Alphonse and Gaston routine ('After you, my dear Alphonse--No! No! You first, Gaston!") is played by Alex and his former college roommate, Renaldo, in Don G. Porter's latest Alaska action adventure,
Humpy Cove.
The repartee between the two is fun, fast, and furious throughout the book, as is the action. The tale begins with the two hammering through the short seas of Resurrection Bay in Renaldo's boat on a dark and stromy day. Renaldo is headed for the site of his future hotel, Humpy Cove.... Alex and Renaldo fight and figure their way through following seas and following killers to solve the mystery of Humpy Cove.
--Bill Marsik, author of
Gemini
Like his character Alex Price, author Don Porter has held both commercial pilot and private investigator's licenses and has flown for years in rural Alaska. The author's deep knowledge of the territory, the people, and the life of a bush pilot shines through in the many vivid details that color this tale of cold-blooded murder in the cold North. This is the third Alex Price novel Porter has published with Mcroy & Blackburn.
---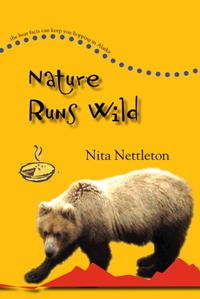 Nature Runs Wild
By Nita Nettleton

Adult
$13.95, paper
ISBN 978-0-9820319-0-2

Time has rolled
through Alaska's Talkeetna Mountains since Jane Doe recovered her memory, her career as a children's book author, a supply of chocolate, and her family. She's done just fine since then, finding a new life and even sharing an adventurous hike over the Chilkoot Trail with her niece Caly. All's well--except she thinks she's nuttier than one of her own excellent chocolate-chip cookies. She hears music, dances with dust bunnies, and is bedeviled by an alter ego in her dreams, the unflappable and ultracompetent Ms. Berry Pie. Sanity may be overrated, but Jane thinks it would be nice to have some to spare. Just a little, maybe. What to do?
Get out of the house and get some distraction, that's the vote of her wise (if also faintly loony) neighbor. So she takes a job for the summer, a nice straightforward job as a cook at a wilderness lodge--except, like everything else Jane tackles, it doesn't stay straightforward for long. Jane's entertaining adventures offer valuable lessons--such as never, ever, try to bum a cigarette from a grizzly bear.
Like her character, author Nita Nettleton finds her adventures keep coming. Now enjoying life in Utah, Nita misses Alaska but stays in touch.
What reviewers have to say about Nita Nettleton:
"Nettleton writes with a breezy, friendly style."
--Michael Armstrong, The Homer News
"[Wake-Up Call of the Wild] is a bit mystery, a bit self-discovery, and a lot of gutsy, womanly wit...It has great momentum, with its fluid prose and unexpected developments... well written and a charming entertainment."
--Shana Loshbaugh, Fairbanks Daily News-Miner
---