McRoy & Blackburn, Publishers
Books from the north: well-written fiction by Alaskan authors, published by an Alaskan press.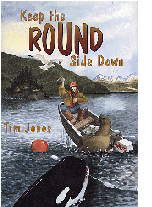 Keep the Round Side Down
by Tim Jones
illustrated by Susan Ogle
Ages 10 and up

$14.95, paper
ISBN 0-9632596-4-4
$23.95, cloth
ISBN 0-9632596-5-2

A grizzled old fisherman raises a boy of mysterious origins on the shores of the spectacular, resource-rich but unforgiving Prince William Sound. Sven dubs the boy Orca, after the whales who bring the baby boy to shore, and gives him as good an upbringing as he can, teaching him the ways of the sea. Orca grows up learning to set nets and read from a first aid manual; he spends his hours listening to the tall tales of garrulous sailors and the sound of rain on water, until the crucial summer when Miss Priscilla M. Braithewaite of the Alaska Department of Social Services, Division of Child Welfare, comes to pay a call and perhaps change his life forever. Jones' novel is illustrated with numerous wash drawings by noted Alaska artist Susan Ogle; both author and illustrator live on Prince William Sound.
"...this is great reading..." --Nancy Brown, Peninsula Clarion

McRoy & Blackburn, Publishers
mbe@mosquitonet.com
Last modified 9 March 1999